The Regional Comprehensive Economic Partnership has the potential to deliver significant business opportunities for Cambodia, given that the 16 RCEP participating countries contribute about 30 percent of global GDP and more than a quarter of world exports, said a Commerce Ministry official on May 18. "RCEP ...
On March 14, experts welcomed recent moves by ASEAN members to agree to cut 90 percent of tariffs in the Regional Comprehensive Economic Partnership for between 5,000 to 6,000 kinds of products over the next 15 years, saying it would fully benefit Cambodia after the ...
The government sought to set the record straight on December 22 after local media outlets erroneously reported that the Kingdom's public debt had reached $10 billion at the end of 2015. Without naming which media outlets had published the skewed figure, which was shared widely on ...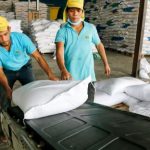 Despite strengthened economic ties following the signing of 31 agreements on October 13 between Cambodia and China, the Kingdom's agricultural sector still needs to improve before it can fully benefit from the opportunities offered by the largest economy in the region, experts have said on October ...