A visiting delegation of agricultural experts suggested that Cambodia's struggling rice industry should develop a contract farming model that if used systematically would help confront the complicated supply chain dynamics that bog down smallholder farmers. The Global Institute for Tomorrow, a Hong Kong-based think tank, ...
The government-owned bank charged with issuing $27 million in emergency loans to rice millers as part of an initiative aimed at propping up the struggling rice industry announced the terms of the credit lines on September 19, and said it would ensure that the funds ...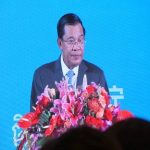 China has agreed to double its rice import quota, Prime Minister Hun Sen announced at the opening of the first Chinese-Cambodia investment forum in Nanning, China on September 12, offering a much-needed boost to Cambodia's beleaguered rice sector. The prime minister said China's government had officially ...

Contact us
Thank you for taking the time to get in contact!