The National Legislative Assembly on April 20 passed the national strategy bill in its first reading and went into executive session to pass the Royal Administration Act in three straight readings. The strategy bill was approved for vetting by 196 votes with three abstentions. Deputy Prime Minister ...
National elections will take place in February of next year, Deputy Prime Minister Wissanu Krea-ngam said on Wednesday, confirming fears a vote the military had promised for 2017 will be once again postponed. "One year from today, there'll be elections", Deputy Prime Minister Wissanu Krea-ngam ...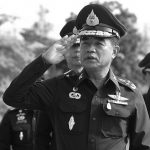 Security and domestic affairs authorities have been told to strictly enforce relevant laws to suppress ongoing spreading of false information and rumours via social media following the passing of His Majesty the King. Deputy army spokesperson Col Sirichan Ngathong said that Army Chief General Chalermchai ...

Contact us
Thank you for taking the time to get in contact!