SDG 8 Decent work and economic growth
Myanmar lost an estimated 1.2 million jobs in the second quarter following the February military coup that crippled an economy already weakened by the coronavirus pandemic, according to the International Labor Organization (ILO). "Myanmar was already facing economic stress with jobs and livelihoods under threat as ...
 THE IRRAWADDY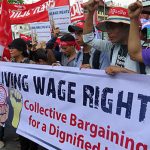 Hundreds of workers took to the streets in Myanmar on Tuesday to call for a living wage, while in Laos marchers asked for social welfare benefits and better protection for citizens working abroad, sources said. Meanwhile, in Cambodia, workers gathered but were forbidden to ...