Sand is a key ingredient in concrete, the essential building material of Vietnam's fast-growing cities. Demand for it is surging—and that is wreaking havoc not only on Vietnam's rivers, but also on the all-important Mekong Delta. Keep reading ...
 Vince Beiser

With the help of a giant net for the giant fish, the locals hauled the stranded swimmer out of the water and onto the trailer of a motorbike. They raced more than two miles to release the fish back into its watery home, wetting the ...
 Elaina Zachos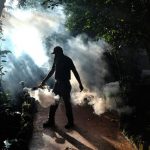 La Niña is characterized by the cooling of ocean surface waters in the equatorial Pacific and affects many of the same regions as El Niño. Based on previous years, this means above-average rainfall and potential flooding in southern Africa, Southeast Asia, and northern South America, ...