The Global Fund is now driving malaria-elimination programmes to add momentum to eradicating the disease in the Greater Mekong Sub-region, including Myanmar, by the end of 2030.Keep reading ...
 Ei Thin Zar Kyaw

The Lancang-Mekong Cooperation (LMC) will replace the longstanding cooperative structure of the Greater Mekong Sub-region (GMS) in developing the Mekong basin, a Chinese scholar said recently.Keep reading ...
 SUPALAK GANJANAKHUNDEE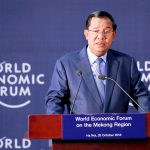 The Greater Mekong Sub-region has the potential to become a major global production center due to its favorable geographical location and its proximity to economic powerhouses in both Southeast and South Asia, Prime Minister Hun Sen said on October 25. Speaking in Hanoi at the opening ...

Contact us
Thank you for taking the time to get in contact!