Agricultural policy and administration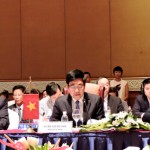 The Ministry of Agriculture and Rural Development in coordination with Japanese Ministry of Agriculture, Forestry and Fisheries held the second high-level dialogue on agricultural development cooperation in Hanoi on 12 August. At the dialogue, Minister of Agriculture and Rural Development Cao Duc Phat called on the ...
At a time when little is going right for Southeast Asia's second-largest economy, Thailand is being hit hard by weak global demand for its major agricultural exports. Among the people most affected are the country's rubber producers, suffering depressed prices since January 2014. After surging to more ...
The government has agreed to a new framework to increase the competitiveness of its agricultural sector in line with the recently launched Industrial Development Policy, state news agency AKP reported on 29 July. Ty Sokun, secretary of state at the Ministry of Agriculture, said that the ...