Disaster preparedness and emergency response policy and administration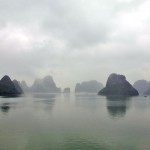 Heavy rainfall in northern Vietnam has killed at least 17 people and inundated major coal mines, causing concern among environmentalists about the contamination of the nation's top tourist attraction and World Heritage-listed Ha Long Bay. A week of persistent rain in Quang Ninh province has displaced ...
Local government officials are turning to social media in an effort to share information on the flooding situation in upper Myanmar – and head off rumours of impending dam overflows and other catastrophes. The government has traditionally used state media, both print and broadcast, to share ...
Increasing heavy rains have caused severe flooding in the western state of Rakhine, Myanmar, destroying nearly 200 homes and causing serious damage to another hundred across four townships. During the first few days of the flooding, around 1,500 people were evacuated, and about 300 of ...
Starting 30 March 2015, residents of Banteay Meanchey, Pursat and Kampong Thom provinces can enrol in a disaster-response calling service through their phones in anticipation of the impending rainy season. "[In the past] the emergency comes before the information. The other channels we have used are ...