Environment and natural resources policy and administration
Da Nang government, Vietnam, has threatened to shut down the factory of Coca-Cola if it is found to have violated environmental rules, according to media reports. Keep reading ...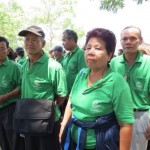 Hearts of many locals in Udon Thani's Prachaksinlapakhom district are heavy because of a pending project to launch mining operations in their hometown area. They are worried about possible pollution and adverse impacts on their health. "To tell the truth, I don't believe in the environmental impact assessment [EIA]," ...
The National Research Council of Thailand (NRCT) has made an agreement with the 3rd Army Area on a cooperative effort to reduce haze disasters caused by burnings in the northern region. The NRCT Secretary-General Soottiporn Chittmittrapap has revealed that the NRCT has joined hands with the ...
Laos has announced that it will submit the proposed Don Sahong dam on the Mekong River for "prior consultation" within a regional mechanism but will not suspend development of the controversial project that has been criticized by its neighbors and environmentalists. Previously, Laos has refused to comply with a ...