Every morning at 5:30, Yang Phorn and some of his neighbors from a village west of Cambodia's capital Phnom Penh, climb on motorbikes to go honeybee hunting in a forest far from home. Before the 47-year-old and the others set, they prepare bags of rice and ...
 RFA's Khmer Service. Translated by Sovannarith Keo. Written in English by Roseanne Gerin.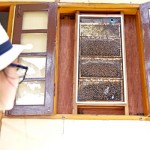 Honey may soon join wine and coffee as among Shan State's best-known local commodities, as production grows. Myanmar is set to export about 3500 tonnes of the sweet stuff this year, and experts say the "Made in Myanmar" honey label may soon spread. Rabbi Yossi Ives, chief ...