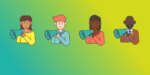 ORGANISATION: OPEN CONTRACTING PARTNERSHIP LOCATION: VIRTUAL TIME: 10:00 EDT / UTC – 4 Join us for an exchange of ideas, plans and priorities for the open contracting agenda at upcoming global summits! We will be meeting on Thursday, November 3rd at 10:00 EDT / UTC – 4 (register here). This December, ...

Money Trail is a collaborative project between highly regarded journalism and training organisations – Journalismfund.eu, Finance Uncovered, Free Press Unlimited – and Oxfam Novib. In Money Trail, Journalismfund.eu offers working grants for (teams of) African, Asian and European journalists to investigate cross-border illicit financial flows, tax ...

The index, which ranks 180 countries and territories by their perceived levels of public sector corruption according to experts and businesspeople, uses a scale of 0 to 100, where 0 is highly corrupt and 100 is very clean. More than two-thirds of countries score below 50 ...