Decentralization and deconcentration
Despite decades of political stability and economic growth, the post-conflict Cambodia is still struggling to address extreme poverty, poor governance and the improvement of public services as the result of weak institutions and a bureaucracy in which state functions and resources are centralised and patronaged. Indeed, ...
Prime Minister Thongloun Sisoulith has called on the Ministry of Home Affairs to adhere to scientific ways in the development of governance and administration, with their strong roots developed from an early stage. Mr Thongloun made the call on December 7 in his address at the ...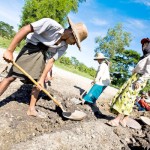 Lack of funding is impeding a new – and potentially significant – mechanism for decentralising social services, a recent study has found. The Asia Foundation study, "Municipal Governance in Myanmar: An Overview of Development Affairs Organizations", was released on 1 September. The findings focus on development ...