Handicrafts industry policy and regulation
The use of debt bondage to trap workers in "modern day slavery" is widespread in many of Cambodia's brick-making factories, indicates research by rights group Licadho, whose findings suggest the Kingdom's recent building boom is built on the illegal practice. In a report released on ...
Modern machines and technical skills are required to enhance the competitiveness of the Lao timber processing industry in line with other countries in the region. Chairman of the Okawa Chamber of Commerce and Industry of Japan, Mr Yuji Sonoda made the observation during an interview with Vientiane ...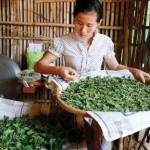 With Cambodia's storied silk industry in rapid decline, the government is looking to revitalise the sector with a new development strategy aimed at making local sericulture more modern, sustainable and inclusive, officials said during a recent industry event. Keep reading ...
Vietnam's handicrafts face many challenges in producing and finding export markets, while integrating into the world economy although it has the potential for economic development. According to statistics from the Ministry of Agriculture and Rural Development's Agricultural Trade Promotion Centre, there are nearly 1,750 traditional craft ...