Transport infrastructure and facilities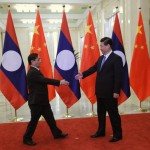 China and Laos announced closer military ties on July 8, a development that coincides with China's growing investment in infrastructure and economic influence. The Laotian defense minister met with Xu Qiliang, the vice chairman of the Central Military Commission, and other Chinese military officials Wednesday in Beijing to ...
Cambodia's recently approved road project leading to the border with Vietnam in Mondulkiri would do irreversible damage to the province's protected forest and threaten future attempts to reintroduce tigers to the Kingdom, according to the World Wildlife Fund. In a statement released yesterday, the group said ...
In response to reports that China has prohibited state-owned companies from bidding on public projects in Vietnam, Transport Minister Dinh La Thang said the ban, if true, will have no effect on Vietnam. Thang, speaking to press on the sidelines of the National Assembly meeting, said that many Vietnamese ...