The presence of parasites in both raw and treated water supply in Southeast Asian countries can be a potential risk for disease transmission. The Association of Academies and Societies of Sciences in Asia (AASSA) vice president Prof Datuk Dr Khairul Anuar Abdullah said therefore, that ...
Borikhamxay provincial authority last week opened a new water treatment plant in Thong village, Pakxan district. The plant supplies 1,000m3 of drinking water per day, equivalent to the needs of 6,600 people, with the water sourced from the Nam Ngiep River. The plant was built ...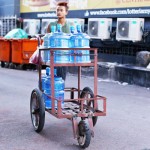 Unlicensed bottled water companies are being shut down by the Food and Drug Administration for fear they could be bacteria-ridden and contaminated, according to officials. Action is so far aimed at small-time businesses which often operate out of the vendors' homes. However, the results of a secret ...
The Myanmar Food and Drug Administration is taking action against peddlers of dirty "purified" water and fake peanut oil. Officials said for the safety of the public the FDA will be testing products consumed daily, going ward by ward to take samples. "First, we will take ...