Sports policy and administration
Myanmar will be competing in the 58th International Mathematical Olympiad this July in Rio de Janeiro, Brazil, the Mathematical Society of Myanmar announced last Saturday. Its secretary U Htin Aung said MSM had just finished testing 40 students in Yangon and Mandalay to select the ...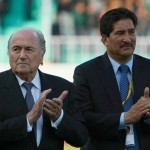 The ethics committee at world soccer body FIFA has banned two officials from Nepal and Laos for taking cash during elections, it said on 16 November. Keep reading ...
A group of Thai supporters arrested in Laos for causing disturbance during Thailand's football match against Vietnam were released on 5 September after spending a night in detention. The Thai Embassy in the Lao capital issued an official statement to apologise for their act, which threatened to affect ...