Down a back alley in Phnom Penh's Chbar Ampov neighbourhood, a handful of men and women are ushered into a non-descript house filled with a row of wooden beds. Many appear nervous. A mother and child are asleep on one of the beds, where they ...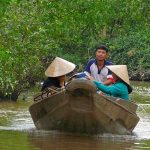 Even though the latest El Niño wound down in Vietnam in September, it left in its wake diminished water supplies, risks to people's health and food security, and a loss of livelihoods. The effects of the severe drought that the El Niño weather phenomenon—exacerbated by climate change—delivered ...
Laos has set a goal for everyone aged 15-35 to complete the equivalent of lower secondary schooling by 2020, according to a government minister. Minister of Education and Sports Ms Sengdeuane Lachanthaboun revealed the ambitious plan on September 12 to mark International Literacy Day on September 8. This ...

Contact us
Thank you for taking the time to get in contact!