Cambodia's pig farmers created a new taskforce on April 27 to combat pig smuggling along Cambodia's borders that is leading to falling prices for domestic producers. Mong Rethhy, co-chair of the Cambodian Chamber of Commerce's working group on the agricultural industry, gathered the Kingdom's major pig ...
Cambodia is seeking to expand its market for milled rice to Sweden and is looking for ways to cooperate further in trade and investment. Prime Minister Hun Sen, at the World Economic Forum in Switzerland, yesterday asked his Swedish counterpart Stefan Lofven to consider rice imports ...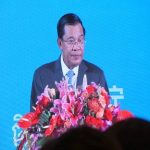 China has agreed to double its rice import quota, Prime Minister Hun Sen announced at the opening of the first Chinese-Cambodia investment forum in Nanning, China on September 12, offering a much-needed boost to Cambodia's beleaguered rice sector. The prime minister said China's government had officially ...

Contact us
Thank you for taking the time to get in contact!