After the technician's countdown, "moi, pi, bai", an AS-III fixed-wing drone launches off a catapult into the air, ascending rapidly at 25 metres per second until it is high above the Cambodian countryside. The drone, equipped with a special camera capable of detecting what the ...
Siam Cement Group, Thailand's largest conglomerate, is tapping into Cambodia's booming construction sector and opening its third cement plant in Battambang province next year. Governor of Battambang province Chan Sophal told Khmer Times that SCG, a majority shareholder in Kampot Cement, started construction on the ...
The use of agricultural machinery in Cambodia has risen noticeably compared with last year, said the Agriculture Ministry. A ministry report released last week showed that the use of agriculture machinery rose to about 91 percent in 2016, compared with 83 percent in 2015, while ...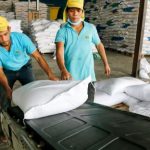 Despite strengthened economic ties following the signing of 31 agreements on October 13 between Cambodia and China, the Kingdom's agricultural sector still needs to improve before it can fully benefit from the opportunities offered by the largest economy in the region, experts have said on October ...