A request of K30 billion from the special reserved fund, granted by Budget Law of the Union 2016, to be spent for supplying the electricity power shortage in Yangon Region during the summer season was approved by the Pyidaungsu Hluttaw on March 17 amidst complaints ...
Our motorbikes crossed flimsy bamboo bridges in western Sagaing Division, a landscape still showing the devastation of 2015's floods. Shifting gears up a twisting, muddy hill trail took us over the border to Chin State. There, several villages are tucked into the forested slopes of ...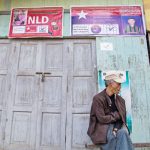 The Chin State government will focus on developing three main areas of the local economy over the next five years – trade, small and medium enterprises, and tourism – according to the state minister for development, electricity and industry. Local officials will work with the Union ...

Contact us
Thank you for taking the time to get in contact!