The planned initial public offering of the Thailand Future Fund will be pushed back for another three months to September as concerns over the cost of launching the fund continue. Expressway Authority of Thailand, the owner of two expressways to be pooled as underlying assets ...
The Public Private Partnership Policy Committee on March 29 resolved to place six more transportation projects worth Bt600 billion on the fast track for implementation. The Industry Ministry will also set up a working panel as soon as possible to promote investment support and tax incentives ...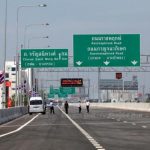 An expressway linking Rama III Road, Dao Kanong and the western outer ring road, will be the first project financed by the Thailand Future Fund, Deputy Prime Minister Somkid Jatusripitak says. The cabinet in December approved the launch of TFF to raise liquidity from the ...

Contact us
Thank you for taking the time to get in contact!