Chief Charter Drafter Meechai Ruchupan said on April 18 that he had submitted the first two organic laws essential to the next general election to the National Legislative Assembly. They are the draft bills on political parties and the Election Commission. Meechai said deliberation on these ...
National elections will take place in February of next year, Deputy Prime Minister Wissanu Krea-ngam said on Wednesday, confirming fears a vote the military had promised for 2017 will be once again postponed. "One year from today, there'll be elections", Deputy Prime Minister Wissanu Krea-ngam ...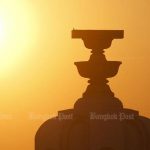 The Election Commission is expected to debate on September 13 a draft organic law seeking to grant itself more powers to ensure efficiency in guarding against poll fraud and cheats. A source at the EC said the draft law involves the elections of MPs and the mechanisms ...

Contact us
Thank you for taking the time to get in contact!