Water levels at Southeast Asia's largest river may be at its lowest levels in a century. Low rainfall, high temperatures and poor dam regulations are contributing to a historic low at the Mekong, affecting the region's agriculture and fishing industries and leading to rapidly drying taps. Chinese ...
 Jason Thomas

Floodwater released by a recently opened Chinese hydroelectric dam in Cambodia has completely submerged a village, the campaign group International Rivers said on Friday (Feb 2). Hundreds of families from five villages in the northern province of Stung Treng had moved several months ago to designated ...
 Amy Sawitta Lefevre/Simon Cameron-Moore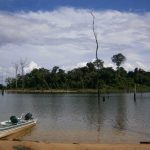 Hydropower development is booming, with controversial projects unfolding across the Americas, Africa, Asia and Europe. Though often presented as a green renewable energy option, dams can cause a litany of negative impacts: disrupting the downstream flow of nutrients, interrupting aquatic migration routes and harming fisheries. They ...

Contact us
Thank you for taking the time to get in contact!