The Japan External Trade Organisation (JETRO) Vientiane will work with the developers of four special economic zones (SEZs) to encourage more investment by Japanese companies, to boost trade and economic ties between Laos and Japan. A Memorandum of Cooperation was signed in Vientiane on Tuesday by ...
For nearly two decades, Poipet was a one-trick pony, relying on the casinos huddled around its Thai border crossing for its economic fortune. But now a different type of cluster is emerging on the frontier town's outskirts, where industrial parks are attracting predominantly Japanese manufacturers ...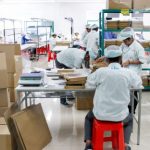 Greater connectivity between Japan and Cambodia is tightening economic links between the two countries while catalysing Japan's ambitions to develop a chain of industrial complexes that cut a tract through the Lower Mekong region. Officials at Japan External Trade Organisation, Japan's development agency, say Cambodia's economic ...

Contact us
Thank you for taking the time to get in contact!