Passenger traffic to Cambodia's three international airports continued to grow last year, with total arrivals and departures topping 7 million for the first time, according to the operator's annual report. Khek Norinda, communication director for Cambodia Airports, the company that holds the concession to manage ...
A marketing initiative rolled out last year that provides monetary incentives to airlines that use Sihanoukville's airport for international flights has been credited in part with encouraging airlines to open new routes and increasing the amount of passenger traffic to the coastal airport. Last January, ...
Cambodia's airport partner French concessionaire Vinci on December 24 held the ground-breaking ceremony for the extension of the terminal and taxiway at Sihanoukville International Airport to accommodate up to 500,000 tourists a year to visit the province, said officials. Sihanoukville International Airport received 100,000 tourists last ...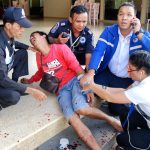 The number of visitors crossing into Cambodia through Poipet City spiked after last week's bombings at tourist sites in Thailand, according to a senior official in the Banteay Meanchey provincial tourism department. The number of tourists coming in through the border town per day has almost ...