The head of the U.N. children's fund urged Myanmar on Monday to implement the recommendations of a panel on the Rohingya crisis led by former U.N. head Kofi Annan, saying it had yet to create conditions right for the return of refugees from Bangladesh. Keep reading ...
The Advisory Commission on Rakhine State yesterday presented almost 30 recommendations of action that the Myanmar government can take to immediately improve the situation on the ground in Rakhine as the commission released its interim report. Kofi Annan, Chair of the Advisory Commission, said the ...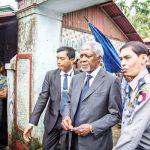 Torrential rain did not deter a crowd of well over 100 people turning out to witness Kofi Annan's arrival in the Muslim ghetto of Aung Mingalar on September 7. In contrast to the protests that had greeted Mr Annan's arrival in the Rakhine State capital of ...

Contact us
Thank you for taking the time to get in contact!