Work on the fifth Lao-Thai Friendship Bridge across the Mekong River, linking Pakxan district in Borikhamxay province to Bueng Kan province in northeastern Thailand, is now 23 per cent complete. The bridge is expected to be fully complete in 2024 and will serve to boost trade ...
Customs checks at Lao-Thai Friendship Bridge in Vientiane have netted the country over 98 million kip via the 10 Percent Value Added Tax since implementation of stricter controls in late 2016. Deputy Head of the Customs International Checkpoint under Lao-Thai Friendship Bridge, Mr Soutchai Inthavong ...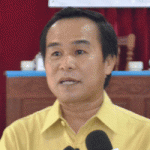 Construction of a 30-km embankment along the Mekong River starting near the Lao-Thai Friendship Bridge in Vientiane will soon begin. The flood protection levy will run from the Vientiane-Nong Khai Friendship Bridge downstream through Huaymarkhia village to Dongphoudy and Thamuang villages in Hadxaifong district. The project, known ...

Contact us
Thank you for taking the time to get in contact!