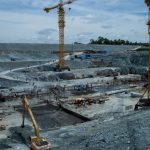 The collapse of a dam at the Xe Pian Xe Namnoy hydropower project in Laos was tragic. Immediate assessments say that 39 people died, many suffered injuries and thousands were left homeless, with their means of income lost for the foreseeable future. Beyond these numbers, ...
Decision to continue work on two huge dams calls into question how serious the government is about reviewing numerous multibillion-dollar hydropower projects after last month's disaster. Keep reading ...
As surging waters swallowed the ground floor of Vee Keoheuy's home, she hoisted herself out the window onto a rickety boat with her husband, children and grandchildren – in the dark. Officials had told her neighbours in Ban Mai that heavy rains required the opening ...
Beyond concern for the undoubted human costs of the collapse of a dam in Laos, this event once again focuses attention on the long-term effect of the massive expansion of hydropower in the Mekong Basin. Keep reading ...