Since its adoption of a market economy in the last 1980s, Vietnam has become what some have referred to as a new "Asian Tiger." Over the last 25 years, Vietnam's economy has enjoyed an average annual growth rate of more than 6 percent. Between 1994 and 2014, ...
The gay former Icelandic Prime Minister Jóhanna Sigurðardóttir said, "It is absolutely imperative that every human being's freedom and human rights are respected, all over the world." Sigurðardóttir's message, delivered while defending LGBTQ+ rights at a 2014 Pride festival, would certainly have been welcomed by ...
 Hugh Bohane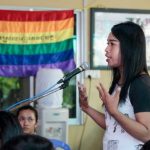 An overwhelming majority of transgender women on Cambodia's city streets are subject to "shocking" harassment and abuse, according to a new report from the Cambodian Centre for Human Rights. The report, released on September 21, also shines a light on a disturbing new practice that has allegedly ...

Contact us
Thank you for taking the time to get in contact!