Last week, China conducted another iteration of its joint patrols with three riparian countries in the Mekong River. The development spotlighted one aspect of Beijing's continued effort to advance collaboration in the Mekong subregion and Southeast Asia more generally. As I have noted before, as China ...
 Prashanth Parameswaran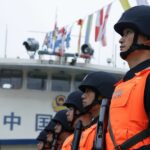 The 89th Mekong River joint patrol led by China, Laos, Myanmar and Thailand was launched Tuesday in southwest China's Yunnan Province. In a bid to safeguard the security and stability along the Mekong River, the four countries will carry out joint patrols, visits, inspections and safety ...
 Huaxia