Nakhon Ratchasima: The Office of the National Water Resources (ONWR) yesterday kick started public consultations to draw up a water-management plan for the Moon River Basin. The plan is urgently needed to tackle severe drought and floods in 10 northeastern provinces, it says. The first consultation, which ...
 PRASIT TANGPRASERT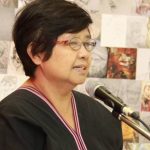 Committee members are Professor Prakob Virotekoot, Mrs Sunee Chairos, Mr Detrat Sookkamnerd, Mr Chavalit Witthayanont, Mr Anant Harnpanichpant, Mr Chalotorn Kansantisookmongkol and Mr Pornchai Tantiwittayapitak. In a statement issued on November 17, the committee said that in the past 20 years, the construction and operations ...