Pepper production inched up to close to 12,000 tonnes last year with cultivation on 6,124 hectares, but unstable prices have led to calls for geographic indicator (GI) certificates for a range of peppers. The eastern Thbong Khmum province is the leading pepper producer, growing 8,566 ...
Geographical indication status for Kampot pepper and Kampong Speu palm sugar has been accepted in Vietnam. The agreement gives legal protection to both products and stops unscrupulous traders in Vietnam passing off local produce as Cambodian. The deal was reached last Wednesday after negotiations involving the ...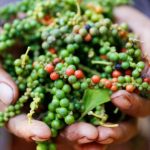 Given the wild success of Kampot pepper, which can fetch up to three times the amount per kilo as Cambodian pepper produced without its prized label, it is hardly surprising that the product has its share of imitators. In an effort to address the risk ...

Contact us
Thank you for taking the time to get in contact!