Vietnam Rivers Network (VRN) and its members have refused to participate in a consultation meeting on the construction of Laos-based hydropower dam Pak Lay, which will be held in Vientiane, Laos, on September 20 by the Mekong River Commission (MRC), to voice its objection to ...
The Mekong River Commission's 5th Regional Stakeholder Forum will be a valuable opportunity for all stakeholders to come together to discuss, review, and influence the plans for the newly proposed Pak Lay hydropower project. At the MRC, we believe that inclusion and consideration of diverse ...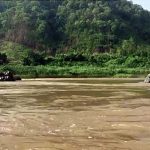 At least 1,000 families from 20-some villages in northwestern Laos' Xayaburi province will be forced to relocate if infrastructure officials move ahead with plans to build a fourth hydropower dam on the Lower Mekong River, a provincial official said Monday. The Pak Lay hydropower project is ...

Contact us
Thank you for taking the time to get in contact!