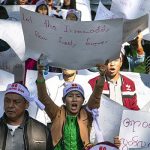 About 10,000 people in northern Myanmar's Kachin state staged a massive protest Thursday against the controversial Chinese-backed Myitsone Dam and recent calls by China for the suspended project to resume. Kachin activists, leaders from Kachin political parties, religious leaders, local civil society groups, Buddhist monks, ...
Lao authorities have released a villager held since 2017 with a group arrested for protesting the loss of land awarded by the government to a Vietnamese rubber company, sources in the communist Southeast Asian state said. Phonesawai, the fourth villager of the group to be released, ...
On Sunday 13 January 2019, another protest in Bangkok happen in the Ratchaprasong area of Bangkok and different provinces in Thailand, including Ubonratchathani and Chiang Rai. This was the third protest in Bangkok after the NCPO revoked its ban on people's freedom of expression. Keep reading ...
The Vietnamese people, wary of Chinese expansionism, expect their leaders to control development, protecting culture and independence. Few people had expected mass demonstrations to erupt throughout Vietnam in 2018, as the one-party state usually snuffs out dissent before many understand the issue or have a chance ...