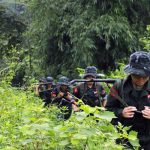 The cutoff of internet service to conflict-affected areas of western Myanmar's war-torn Rakhine and Chin states has created a difficult situation for civilians who cannot access donors online to make aid requests, though the state government said it will step in to fill the void ...
Southeast Asian nations will call for those responsible for atrocities in Myanmar's Rakhine state to be held "fully accountable", according to a statement prepared for a regional summit, reflecting a stronger line being taken within the group. The draft of the chairman's statement, which was reviewed ...
Foreign Ministers of the 10-country Association of South-East Asian Nations (ASEAN) repeated its calls for a durable solution to the northern Rakhine crisis in Myanmar, one of its member states. The ASEAN foreign ministers also want a speedy and safe return of the over 650,000 Muslim ...
 Myanmar Times Staff


Contact us
Thank you for taking the time to get in contact!