The Boeung Prek Lapouv Protected Landscape Area in Takeo province – renowned as a habitat for many species of rare water and migratory birds – is set to be designated a Ramsar site, or a wetland of international importance. Ministry of Environment spokesman Neth Pheaktra said ...
 Orm Bunthoeurn

Vietnam became a member of the Convention on Wetlands, known as the Ramsar Convention, in 1989. So far, nine wetlands in the country have been recognised as Ramsar sites – wetlands of international importance. The Ramsar Convention, signed in Iran's Ramsar city in 1971, is an international treaty that ...
Losing their natural habitat and food source, red-crowned cranes no longer call a national park in Vietnam's Mekong Delta home. For three decades, Tram Chim National Park in the reed fields of Dong Thap Muoi in Dong Thap Province has been famous as a natural habitat ...
 Hoang Nam

Conservationists, however, have expressed concerns over possible adverse impacts on the complex freshwater river system as well as the status of the country's latest international Ramsar Site The Songkram River, one of the two prime Mekong tributaries in the Northeast, which is still free from any ...
 B.Tribune

The Forest Department wants to upgrade an island in Ayeyarwady Region that is a nesting site for sea turtles from its current status as a protected area to a Ramsar Site. A Ramsar Site is a wetland site designated to be of international importance under the ...
 MYAT MOE AUNG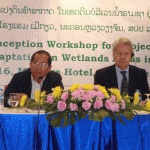 A project valued at US$4.7 million was launched on September 12 in Vientiane, aiming to help communities in and around the Xe Champhone, and Beung Khiat Ngong wetlands to adapt to the impacts of climate change. The Ministry of Natural Resources and Environment's Department of Environmental Quality ...