The Japan International Cooperation Agency has finalised a sewage management master plan for Phnom Penh, which is in dire need of a wastewater treatment plant, officials said on March 15. Uchida Togo, project formulation adviser at JICA, said the organisation is now working with the ...
The Ministry of the Environment signed an agreement yesterday afternoon with the Japan International Cooperation Agency in an effort to improve the Ministry of the Environment's capacity to curb pollution and review environmental impact assessments for development projects. "[JICA] will deploy advisers and discuss with officers ...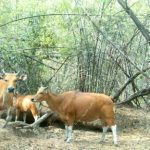 Cambodia's Ministry of Environment gathered a network of government and civil society representatives on November 8 to begin planning the creation of a biodiversity conservation corridor that would make it easier for wildlife to thrive. Biodiversity corridors connect isolated conservation areas with strips of vegetation to ...

Contact us
Thank you for taking the time to get in contact!