The representative of the United Nations Development Program has called on the Duterte administration to adopt the UN's Sustainable Development Goals, saying it would help make a difference in poverty reduction and socioeconomic development. UNDP country manager Titon Mitra told reporters the Philippines would be able ...
Three years ago Chinese Premier Li Keqiang outlined a roadmap for a shared "diamond decade" in the relations between China and the Association of Southeast Asian Nations, and pledged to expand bilateral trade to $1 trillion and two-way investment by $150 billion by 2020. Given ...
Emergency response across South-East Asia got a shot in the arm with the 11 countries in the region establishing a fund to build preparedness for natural disasters and health emergencies. The fund aims to make health systems in the region, which is among the most disaster-prone ...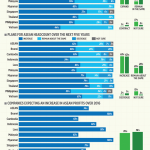 European investors are increasing their exposure to Southeast Asia, reaffirming the region's position as a bright spot in the global economy, as companies look to other markets for growth amid lingering concerns in China, according to the EU-ASEAN Business Sentiment Survey. The prospect of European ...