"We bury a GPS tracker in the wood. We call them rabbits," says Cheewapap Cheewatham, director of Thailand's Forest Protection and Fire Control Bureau, part of the forestry department. He tells China Dialogue that they used to just impound as evidence cut rosewood they found ...
 Ryn Jirenuwat, Tyler Roney

On the trail of a conservation group conducting a wildlife monitoring survey, we stop the 4×4 on the road and walk along the red earth to check on camera traps. Wildlife rangers from Thailand's Department of National Parks, Wildlife and Plant Conservation and international conservationists ...
A mere 45 minutes northeast of Vietnam's bustling capital city of Hanoi is the carpentry town of Đồng Kỳ, where conversations take place above the incessant din of electric saws cutting wood. A thin layer of sawdust coats every surface, and after a few hours ...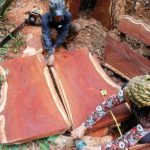 Cambodian conservation officials spoke publicly for the first time on October 10 about what they described as nearly three years of corrupt practices by their Vietnamese counterparts in facilitating the multibillion-dollar illicit trade in Siamese rosewood. But their complaint comes amid allegations from Hanoi that ...