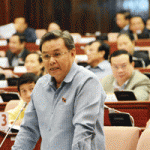 National Assembly members have called for the government to do more to seek new revenue sources and fully collect revenue following last fiscal year's revenue shortfall despite there being numerous income generating sources. Members of parliament put forward the requirement when debating the government's proposal to ...
Laos is pursuing its drive to reduce the poverty rate below 10 percent by 2020, while also attempting to meet outstanding Millennium Development Goals. Head of the Central Committee on Rural Development and Poverty Eradication, Mr. Thongvanh Vilayheuang, highlighted various aspects of the government's five-year development ...
The national socio-economic development plan, state budget, monetary policy, audit results, the work of prosecutors and judges and legislation approval will all be on the agenda of the upcoming first ordinary session of the National Assembly's 's Eighth Legislature. Head of the NA Secretariat Ms Suansavanh ...

Contact us
Thank you for taking the time to get in contact!