The Lancang-Mekong Cooperation (LMC) marked its third anniversary last week with the announcement that China's trade with the five Mekong member countries – Cambodia, Lao, Myanmar, Thailand and Vietnam – has reached over US$260 billion for the period, highlighting the overarching role China plays in ...
 Jason Thomas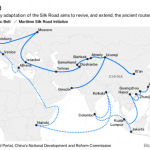 Xi calls it the "project of the century," a decades-long drive to grease the wheels of trade with massive infrastructure spending; Morgan Stanley estimates it will total $1.3 trillion by 2027. The Belt and Road is at the core of China's foreign policy strategy and ...
Chinese President Xi Jinping proposed the Belt and Road Initiative (BRI) in 2013, calling for economic cooperation focused on connectivity and aimed at achieving win-win outcomes. The BRI is an example of China's determination to support globalization as the world faces uncertainties, such as rising protectionist ...

Contact us
Thank you for taking the time to get in contact!