According to official figures from the Ministry of Commerce, trade volume reached US$23 billion until the end of January in this fiscal year. The ministry has set the target trade volume to be $31 billion, therefore the ministry will continue trying to achieve its target ...
The Ministry of Commerce is suspending plans for a paddy purchase program due to a recovery in market prices, according to ministry spokesperson U Khin Maung Lwin. U Khin Maung Lwin told The Myanmar Times in the first week of December that the ministry had approval ...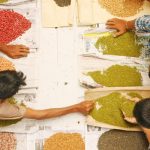 India is playing hardball with Myanmar's beans and pulses sector, pushing for a per-tonne deal that falls well short of domestic market rates. Assistant director of the Ministry of Commerce U Khin Maung Lwin confirmed that Myanmar and India are locked in negotiations over a proposed ...

Contact us
Thank you for taking the time to get in contact!