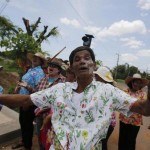 Long-awaited rain fell over four drought-struck provinces overnight and during the day, reviving withering rice crops but only slightly raising hopes of the upcountry regions coming out of the crisis. While rice farmers in Surin, Maha Sarakham and Phayao were grateful for rain replenishing their crops, ...
As Thailand braces for a drop in rice production owing to rainfall shortage because of the El Niño effect, officials say that Cambodia is less likely to be affected by the weather pattern as they expect rainfall to cover the Kingdom this week, encouraging the ...
Cambodia has lost a 100,000-tonne Filipino rice bid to Vietnam, on account of a higher costs as compared to regional competitors, marking the fourth time the Kingdom has failed to win a rice tender issued by the Philippines. The Philippines National Food Authority last week awarded ...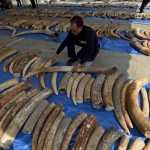 More than three tonnes of elephant ivory have been found at a Thai port stashed in a container shipped from Kenya, customs said on Monday, the second huge haul of tusks from Africa in less than a week. The discovery, which would be worth millions of ...