Cambodia is prime for first slaughterhouse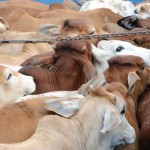 Riding the wave of rising demand for beef in Asia, Cambodia's long-awaited slaughterhouse could not come soon enough, with an emerging middle class in Cambodia also hungry for more premium meat from Down Under.
Since 2013, Cambodian company SLN Meat Supply has been building Cambodia's first industrial slaughterhouse in Preah Sihanouk province, and the company expects it to be fully operational by the end of the year.
Initially, SLN is aiming to process about 1,700 head of Australian cattle per day, with 1,000 destined for Vietnam and the remainder for local consumption.