Development Assistance Committee (DAC) members
The first infectious disease ward, which shall include the first HIV/AIDS treatment centre in Laos, opened yesterday in Vientiane, aiming to improve the medical environment to treat infectious disease patients including those with HIV. The centre received financial support from the government of Japan. The new facility ...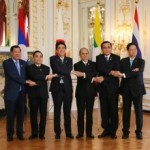 On July 4, the leaders of Japan and the five countries in the Mekong subregion – Cambodia, Laos, Myanmar, Thailand and Vietnam – convened for the Seventh Mekong-Japan Summit in Tokyo. True to form, much of the media focus was on the dollar amount that Japan ...
Japan has pledged Y750bn ($6.1bn) in aid to the "Mekong Five" nations over the next three years as Tokyo seeks fresh influence in a region it regards as crucial to domestic economic growth and regional strategic balance. Keep reading ...