The real importance of Japan's new strategy for the Mekong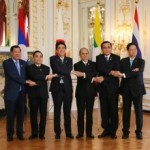 On July 4, the leaders of Japan and the five countries in the Mekong subregion – Cambodia, Laos, Myanmar, Thailand and Vietnam – convened for the Seventh Mekong-Japan Summit in Tokyo.
True to form, much of the media focus was on the dollar amount that Japan pledged to the so-called 'Mekong Five'. In fact, the real significance of the meeting was the adoption of a new, comprehensive strategy for Mekong-Japan cooperation for the next three years and the growing importance of regional and global issues in the relationship.