(country) Chamber of Commerce
Local and foreign investment in the Kingdom declined by nearly $1 billion last year, with the bulk of losses coming from fewer infrastructure and agriculture projects, while the manufacturing and tourism sectors continued to post massive gains, according to the Council for the Development of ...
In addition to the New Yangon city project, which is going to start at the end of February in the Kyeemyindaing township on the other side of the Yangon river, work to upgrade old houses and construct new housing for squatters and government employees will ...
The government sought to set the record straight on December 22 after local media outlets erroneously reported that the Kingdom's public debt had reached $10 billion at the end of 2015. Without naming which media outlets had published the skewed figure, which was shared widely on ...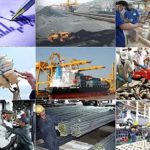 The change of the country's economic structure has once again become a hot topic among business people and law makers following the recent general election. At an international seminar to discuss the World Bank's report held recently by the Vietnam Chamber of Commerce and Industry, the ...