Wooden veneer, partially-processed timber products have been exported in accordance with the government's special permission, according to the latest official report. The latest report from the Ministry of Industry and Commerce showed that as of May 19, as many as 12,182 cubic metres of veneer ...
What's in a definition? For some, too much. Nearly 200 organizations have signed an open letter to the Food and Agriculture Organization of the United Nations, calling for the agency to change how they define "forest" – the very landscape honored today on International Day ...
The government has instructed authorities in charge to inspect wood processing plants nationwide to ensure the plants' operations meet production and environmental quality standards. Inspection will be launched into all licensed 1,595 plants across the country and a number of criteria will be used to assess ...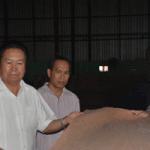 The government has agreed in principle to allow the export of veneers, despite recently imposing a ban on the export of all unfinished wood products, government spokesman Dr Chaleun Yiapaoher has said. Speaking at a press conference at the Prime Minister's Office on 15 July, the ...