Hunting in Cambodia's protected areas and forests would be legal in some cases under a proposal from the country's Ministry of Environment that conservation groups fear could lead to abuses that threaten wildlife populations, according to drafts of rule changes seen by RFA. The ministry is ...
 Jack Adamović Davies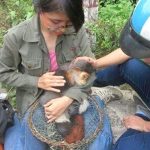 Overlapping efforts and poor management among agencies pose serious threats to biodiversity in the Son Tra Nature Reserve, a biologist said during a dialogue on protecting the red-shanked douc langur. The Da Nang-based reserve is home to 300 red-shanked douc langurs, which are critically endangered and ...