A heavy mist hung over the Mekong River as the first arrest under Thailand's new Wildlife Preservation and Protection Act took place at Cham Pong Pier, the entry point for the Cham Pong morning market. This market, located in Wiang Kaen district, Chiang Rai province, ...
 Mia Signs

The Nature Education Centre recently announced the findings of a programme on the assessment of the spread of wildlife violations in 42 districts of nine provinces and cities with the involvement of 12,840 trading establishments, in an effort to ease the phenomenon. The programme, which was ...
With wildlife populations in Indochina in rapid decline, Thailand is the last great hope for the region's natural heritage, particularly for large carnivores such as tigers and leopards. In fact, many donor organizations feel that Thailand has already achieved mid-level development status, making it more ...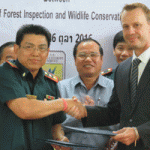 Despite concerted efforts by officials to end the illegal wildlife trade through regular inspections at markets throughout the country, the trade continues to flourish. To reduce illegal wildlife trading in Laos, especially in the main towns, the authorities have asked various agencies to join the ...